The Dream Lives On at Tucson Container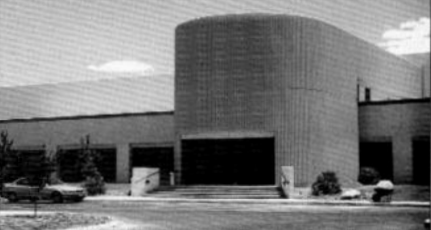 Paper converting industry veteran John Widera's dream of an ideal plant continues on at Tucson Container (TCC) in Tucson, Arizona. Widera incorporated his vision of Gothic architecture and cathedrals into manufacturing reality. The concrete tilt-up plant at Tucson Container resembles a castle with an eyecatching tower. The outside of the facility is finished in sand colored decor to complement the desert landscape. The impressive semi-circular bastion entrance (nave) curves out of the wall to greet visitors.
The 80 foot long entrance of Tucson Container (TCC) imposing tower is 40 feet high and 40 feet in diameter. What is unique about the tall tower is that the walls are shaped like flutes of corrugated single wall. "Since we are in the corrugated box business, I wanted to convey that feeling to others," said Widera. "The large entrance towers, some call 'domed cathedrals', of most of our facilities are a physical reminder that our employees are the defenders of our high standards and the resource efficiency of our corporate culture plus our current business model," said Widera. He believes that the empowered employees of today and tomorrow, whether suppliers or customers, prefer a pleasant working environment which makes them feel they belong and are special
In 1995, John constructed, next to a golf course, a 100,000-square-foot plant, Cal Box ll, in Rancho Cucamonga, California with the same architectural design. "So many box companies operate in warehouses, with small office cubicles. To me, architecture inspires our employees. Besides, aren't we the product of our environment?"
In 2000, Widera took the opportunity to expand TCC business by purchasing 17 acres of land a few blocks away from Tucson International Airport. In 2001, Tucson Container completed the move into the new $5-million, 150,000-square-foot building with its' desert sand decor, and the massive 35 foot high outside concrete walls. John designed the new plant with spacious offices, plus a penthouse on the second floor.

"In 2012, we purchased another 150,000 sq. ft. building in Mesa, Arizona. There we installed a new corrugator for $12-million to supply our own corrugated sheets. It is the only all new state-of-the-art corrugator in Arizona," noted Widera. The secret to success over the decades hasn't changed – good employees, smart use of limited capital, treating customers like they are the only reason we are in business. They make it happen, not let it happen. The script is out there. We just have to follow it.
"We didn't hire many people from our industry," John explained. "Our main focus was on training talent that would work as a team. We had to fight the tendency of some past behavior by sidetracking our corporate culture, such as time management, listened to customers and reacted quickly to their needs. It's all about commitment."
TCC can tailor its new technology for specific applications and suggest alternatives to customers.
"We have also instituted an open-book policy with employees so that everyone understands what is expected. We have a costconscious management style where employees are trained to buy-in on lean manufacturing, data analysis, and productivity," says Nick Widera, TCC's manager.
"Our state-of-the-art machines will allow us to run at high speeds, custom die cuts such as tray, auto lock bottom boxes and tubes," noted Chuck Kyle, Sales Manager. "Here, our value added transforms eye appeal into buy appeal."
Tucson Container purchases from its own corrugator installed in 2013 near Phoenix. Seventy percent of TCC's business is corrugated boxes, while the remaining business is foam and packaging supplies including special wood boxes.
Our ISO9001-2008 and AIB certified quality facility services a wide range of markets. "Some of our big customers are Bose, Motorola and GE," said John. The plant covers a geographic area from Tucson south into Mexico, east to El Paso, and north into Phoenix,
usually with free delivery
The plant's niche is reliability and fast turnaround on orders. We deliver custom boxes and packaging supplies 80 miles away into Mexico on one day notice on almost a daily basis." said Mirko, TCC customer service manager.
The company has its own foam division, Kino Foam, located within the same building. "It's one of the largest custom foam shops in Arizona," said Paul Hartsburg, its manager. The Kino Packaging division handles all types of packaging needs from bags, bubble, stretch wrap, plus stock boxes, folding cartons, and its own wooden industrial crates.
At Tucson Container there is a decentralized management with no on-site President, so many of the 95 employees wear different hats. "Whatever needs to be done in the office or plant, everyone chips in," says Nick Widera. "We live by, On-Time with Quality – No Excuses", he added. "TCC provides us with a very significant position within the key maquiladora region of Mexico. The emphasis is always on continuous improvement in order to satisfy our customers. They will dictate to us what solutions we provide in our northern Mexico and Arizona markets. "As in soccer, we want to be where the ball is going, not where it has been," Nick concluded. In fact, TCC has been involved since 2001 in the production of point of purchase (POP) displays and litho laminated boxes with free delivery
"What's really important is not only the technology available, but what we can achieve with it. If we embedded with twin pillars our strategy, economic as well as environmental, the end result will be long-term customer satisfaction. That is my dream and our unified goal", noted John. "It also means we are the better supplier in Arizona."
So, let us quote you. Call Tucson Container at