Polyurethane Foam packaging systems protect
against shock, vibration, and collision.
Soft; Flexible; Attractive; Conformable; Non-Corrosive;
Odorless; Non-Abrasive; Resistant to Climate Changes.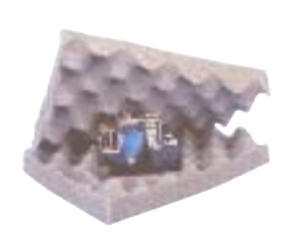 Convoluted Foam
Ordered as sets
Polyurethane Foam MIL-P-26514E Type I, Class II is an open cell, low-cost material with predictable performance characteristics in a temperature range of -40° to 250°F. It is recommended for the protection of very delicate and extremely fragile instrumentation, as well as some general packaging needs.
Articles that are relatively light in weight and only capable of absorbing shocks in the low G-factor range of 15-25 Gs are prime candidates for packaging in polyurethane foam.
Polyurethane Foam packaging inserts can be straight cut, die-cut, contoured with hot wires, or custom molded to conform to the most complex configuration.
Polyether Urethane Foam – an all purpose, low cost, highly resilient padding foam used mainly in
furniture. Also used in packaging light weight and sensitive electronic instruments and for sound
dampening.
Polyester Urethane Foam – Comes in various colors for decorative or general packaging. Its higher
density makes it ideal for protective cushioning of heavier articles. Versatile and easily fabricated.
So, let us quote you a price on your Polyurethane Foam needs. Call Tucson Container at