Assembly or Kit Fulfillment
Assembly or Kit Fulfillment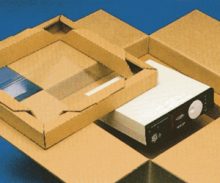 We will take low margin fulfillment or assembly orders to get our foot in the door even with new customersproviding short notice, because we are so project driven. Some people think of it as reducing cost; we view it as quality service.
In fulfillment as in converting, people make the difference. We credit David Lima, manager of Tucson Container Corp. and the people who work with him for being organized and relishing the challenges of the order fullfillment process.
"Some people call this job stress, but it drives us. Somebody once said 'What kills one person, feeds another.'All of us in fulfillment like the challenges."
Our fulfillment or Contract Packaging Center, is part logistics warehouse where incoming orders are received, processe, assembled, filled, and shipped. Contracting customer tasks frees up cash for other higher return investments.
After design, we then manufacture the box, display, and/or partitions.
Then the product is shipped to us and we package it and ship it – all per instructions